'When Adonis Calls' has been such a great experience! Thompson Street has such a great spirit, and Claire & Alex are divine collaborators. I love the choice of material (very much in my queer wheelhouse), and I think the audience is just going to love it! It's beautiful and moving, thoughtful and sexy. The blending of forms (poetry, opera, dance) makes it such a unique experience. From the gorgeous music, the stylized movement, and the incredibly talented team -- there really is something for everyone. The show is patient and reflective, in a way I think we all need. It's nice to slow down, sit back, and take stock. The Muse is who we were, The Poet is who we will become. Where are we right now?"
Derek Van Barham is a member of the Red Tape Theatre ensemble. He previously served as Artistic Director of The Ruckus and Associate Artistic Director of Pride Films and Plays. For PFP, he has directed "HOMOS, or Everyone in America," "Perfect Arrangement," "Angry Fags" (Steppenwolf Garage Repertory), "Songs from an Unmade Bed" (Jeff nomination: Best Director of a Musical or Revue), "PRISCILLA, Queen of the Desert: The Musical" and Terrence Mcnally's "Some Men". He also wrote, directed and choreographed "BITE: A Pucking Queer Cabaret" and "Kill Your Boyfriends." Other directing credits include "The View Upstairs" (Circle Theatre), "Three Days of Rain" (BOHO), "Miracle!" by Dan Savage and Skooby Don't (Hell in a Handbag Productions), "Trash" and "HOT PINK, or Ready to Blow" (New American Folk Theatre), and "From These Fatal Loins" (The Ruckus). He was named one of Windy City Times 30 Under 30, recognizing individuals from Chicago's LGBTQ community. MFA: Chicago College of Performing Arts at Roosevelt University.
Alexandra Enyart
Music Director
I love working with all the artists that have come together to bring this work to Chicago. All four singers have been nothing but a joy to work with, they came so prepared we've been able to do a lot in a little time. I feel very lucky because I have never had the chance to work with dancers before, and James and Jay have made everything easy and fluid. Derek is an excellent director to work with and I appreciate all the insights into the story he has shared with me. I am grateful for every pianist who has played this show, of which there have been many. The ensemble is wonderful and comes with an enthusiasm I am tremendously grateful for. Finally for the creative team who shared a deeply meaningful story about self-acceptance and finding love. This show is the product of a lot of love and a lot of work from many people, certainly more than are listed here, and that is what brings me the most joy. When I see the result of that work I am deeply moved.

People should see this show because it is a beautiful telling of human experiences. The poetry, the music, the dance, the direction, any of these element alone creates a story worth seeing, but seeing them all together is nothing less than amazing. This story tells of all the ways in which we are prevented from accepting love, from age, to distance, to sexuality, to our muddy pasts and our uncertain futures. As these two men find themselves and each other I hope the audience will find something meaningful too.
James Mueller
Choreographer
This is James Mueller's choreographic debut with Thompson Street Opera Company. Past choreographic credits include Fucking Men with Pride Films & Plays, Girls' Night and I Love You, You're Perfect, Now Change with Steel Beam Theatre, as well as West Side Story and Tuck Everlasting, both of which won the IHSMTA Jimmy award for "Best Production" in 2017 and 2018 respectively. His most recent dance work, Polarity, was selected for the Performática 2018 dance festival in Cholula, Mexico. James studied dance at Luther College and now works out of Chicago as a dance artist and actor. He would like to thank the Thompson Street Opera Company and Derek Van Barham for their support and insight as collaborators on this project.
What do you love about working on Adonis?
What has made working on When Adonis Calls so satisfying is the nuance and different shades of romance within the libretto and score. When I first started the project I mostly thought about how the dancers could embody the physical attraction and desires of the characters that they themselves could not yet express. However, as the process continued, I began to see the dancers as their own beings who not only shape the relationship of the Poet and Muse but also express the playfulness, empathy, and conflict with their romance. It has been an extremely liberating process to be able to follow those aspects of the choreography. Ultimately, I am able to do that because of the support I enjoy from our fantastic cast and production team.
Why should people come see the show?
People should come see the show because it is about the in between moments. Sometimes it can feel as if society pushes us to the results, or production portion of our romantic, social, and professional lives. What is so refreshing about When Adonis Calls is that it is a show about two men getting to luxuriate in the romance portion of their relationship. They get to take the time to experience the ups and downs of their courtship which I feel we can have a tendency to rush.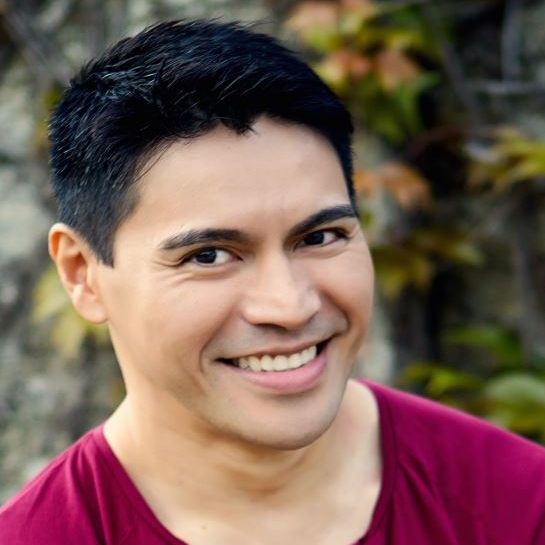 Filipino-American actor, writer and director is excited to join Thompson Street Opera Company's Chicago premier of When Adonis Calls. He has enjoyed a cosmopolitan life working in the entertainment industry in various capacities in Asia.

He has worked with Pride Films and Plays, Griffin Theater, A Squared Theater,
Prologue Theater, Shattered Globe among others and toured
the US and Canada as the king in Rodgers and Hammerstein's
The King And I.

Jay graduated with a Masters degree in Film Directing at
Columbia College Chicago and his debut short film Mahal
continues to make the rounds of film festivals. He is also a
teaching artist for Li'l Buds Theatre Company, Broadway
BreakThru , yoga teacher at Corepower and a crazy husband to
Doug (whom he loves very much).
2017 Final Battle for Love
2016 Not for the Faint of Heart